Pomona Electronics

- Pomona Electronics is a leading, global supplier of connection accessories for electronic test instruments. Designed for a wide range of test and design applications, Pomona products have earned a reputation for quality, dependability and reliability.

To meet the rapidly expanding needs of the market, the company is continually developing new products. Today, Pomona has the broadest line of connection and test accessories in the world, for applications ranging from engineering research to test labs to field service and plant maintenance. The Pomona line of test accessories is recommended by leading manufacturers of test equipment and instrumentation. In fact, these manufacturers look to Pomona as the experts in connection and test accessory development.
DIY Connectors for Quick Wire Attachments
Pomona Elecronics offers five lines of DIY 4 mm banana plug and binding post connectors for low voltage applications. Learn More
Boxes and Enclosures
Publish Date: 2018-03-16
This presentation will provide a brief overview of the boxes and enclosures offered by Pomona Electronics.
Duration: 5 minutes
DMM Accessories and Kits
Publish Date: 2018-03-16
This module provides a brief overview of how Pomona's line of DMM accessories and kits are used, as well as who uses them and where.
Duration: 5 minutes
Quick Connect Banana Plugs and Binding Posts
Publish Date: 2017-09-13
Discussing where and when quick wire attachment connectors can be used, why color-coding is important, and details of connectors available from Pomona.
Duration: 5 minutes
Grabbers and Test Clips
Publish Date: 2016-05-02
Grabbers and test clips are used to temporarily connect wires to components on circuit boards, connector pins, or other terminals
Duration: 5 minutes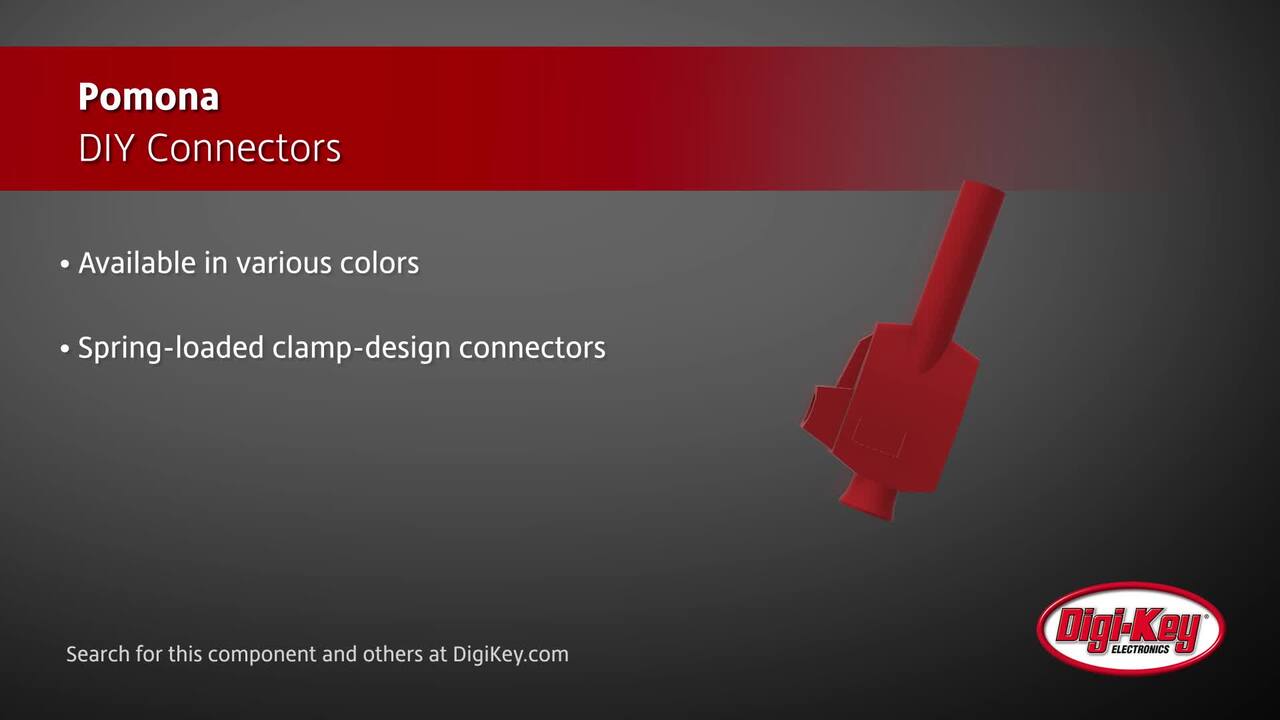 Pomona DIY Connectors | Digi-Key Daily
Pomona introduces five lines of do-it-yourself quick assembly connectors with 22 connectors part numbers in total. The spring-loaded clamp designs allow for easy cable assembly and quick wire attachments up to 18 AWG wire gauges.
Additional Content
Application Notes

Brochures and Catalogs

Documents of Interest

Product Information

Selection Guides